Vizille paper mills produce "elegant and ecological" bags
Making 'elegant and resistant' paper is a tradition for Vizille paper mills. This also applies to its kraft bags, which combine elegance and robustness, all while respecting the environment.
The Vizille paper mills (les Papeteries de Vizille) are located in the Romanche valley, in the heart of the Alps, near the city of Grenoble. In this corner of France, where mills were first established in the 15th century, they are part of local tradition. The area's rich history has inspired the mills in their mission to produce high-quality, top-of-the-range paper, all while respecting the natural environment that surrounds them.
The Vizille paper mills are renowned for making high quality kraft paper bags, with a high print capacity, which gives customers a superior quality of image. with sharp graphics and pure colours, clients can therefore better showcase their marketing.
The customer is key at the Vizille paper mills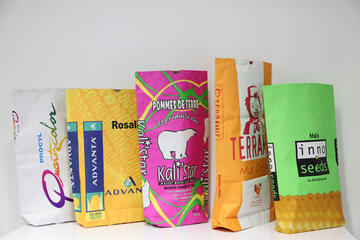 The company offers various specialist equipment, tailored to the needs of end users. The bags are available in different formats and teams from the Vizille mills are dispatched to meet their customers at their location. This makes it possible to develop a format specifically adapted to the bagging line.
Vizille mills also offers its customers a wide range of criteria to chose from. This includes:


Types: medium and large capacity bags, valve bags, open-top bags, with handles, fast-opening bags.
Sizes: from 30 cm to 60 cm in width, 40 cm to 110 cm in length, and from 10 cm to 16 cm in depth.
Compositions: bags guaranteed for food contact (unbleached, white, semi-extensible, high porosity, coated), paper with high characteristics, polyethylene films (from 8 to 20 μm).
Printing: flexographic, 8 colours, varnish, automated ink station, non-slip treatment.
Packaging: automated, with the bags arranged as desired – in rolls, on pallets, in tied packets for bagging machines with a robotic pallet unloader. In fact, with an almost made-to-measure bag, Papeteries de Vizille helps to optimise production rates and storage.
Special features: all types of technical valves (polyvalves, heat-sealed, ultrasonic welding, those with easy-opening base with a bolduc ribbon or a handle, non-slip treatment, repulpable bags, bags with film, biodegradable and finally WS (wet strength) paper, and resistance to moisture.
Environmental approach
The company has also adopted an ecological and cost cutting approach. It uses kraft bags with high resistance that weigh less and therefore can make real material savings.
The Vizille paper mills are also ecological champions: the paper industry, from logging, to paper production and the transformation into bags and shipping is achieved with a low carbon footprint.
The kraft paper used comes from producers who manage their forests sustainably. Because of this, the Vizille paper mills have been PeFC certified. Finally, the site has its own biological treatment plant, and produces part of its electricity through hydroelectric turbines, as well as through its steam, thanks to a bio-mass boiler.

---