The moduLAN 800 rotary labelling machine series by Langguth offer full flexibility
Founded in 1932, Langguth has developed extensive experience in the field of industrial labelling and today offers a wide range of automated and personalised labelling machines to meet its customers specific needs.
Among the many available models, one machine series stands out for its flexibility and high performance. Langguth's moduLAN 800 series has been specially designed to cover all of the possible scenarios where linear labelling machines come up short.
A flexible labelling machine
The series is made of three basic models which can be adapted to meet the requirements of different industries. Each machine is composed of four modules and are compatible with different labelling technologies, including hot-melt, wet glue and self-adhesive. These can be integrated as modules individually, as multiple units or a combination. In addition, cameras or special sensors inside the machines make it possible to align the containers without any contact and avoid any incidents which could slow down the process. Supplementary marking technologies and control devices can also easily be integrated.
…which can be adapted for different formats
Finally, the machine and its modules can also be adapted for multiple formats, such as bottles, flasks, jars, boxes…and more. There are almost no limits to the shape and size of containers and labels or to the speed, which further accentuates the flexibility and adaptability of Langguth's moduLAN 800 series.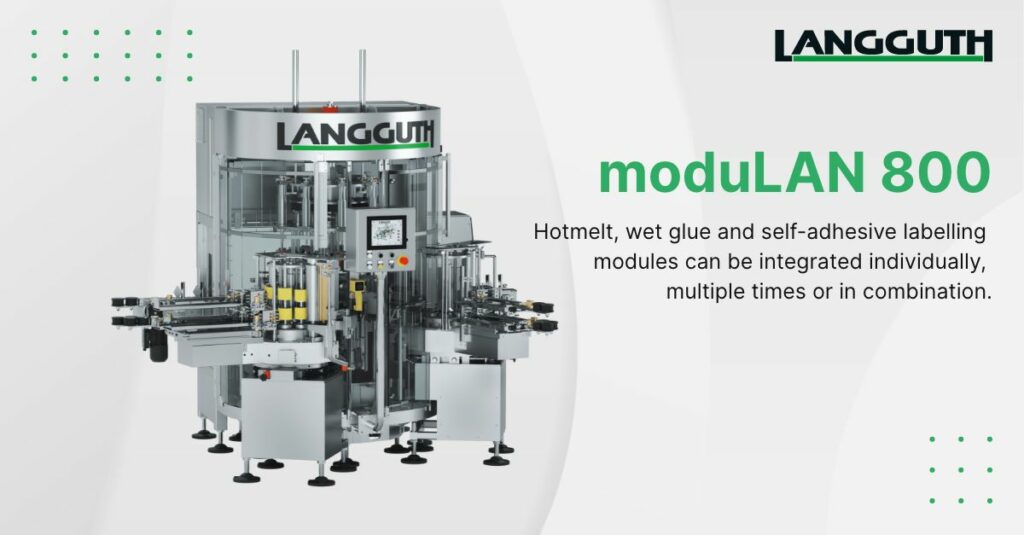 ---