Langguth new E62 Series bring high-speed labelling machines at the right time for industry 4.0
A labelling specialist since 1932, Germany-based Langguth GmbH has a portfolio of 1,500 customer brands, particularly in the food and beverage industry. Manufactured in Germany, Langguth offers a dozen models of machine to meet all of its clients requirements.
Langguth's machines range from semi-automatic table-top labellers and fully-automatic linear labellers to classic rotary labellers with a capacity of up to 500 CPM and more. The company serves 1,500 customers worldwide in sectors such as the food and beverage industry, chemicals, pharma and cosmetics, as well as cleaning, paint and varnish industry.
Labelling plays a particularly important function in the food industry. Labels should not only attract a high level of attention at the POS, but also offer functional properties like a DMC with customer information messages or best before dates, which must be handled by the labeller.
In addition to high-speed performance, production lines are also striving to achieve ever higher efficiency criteria. For the food industry, Langguth therefore provides a lot of answers with its versatile portfolio, three labelling technologies and inline or rotary machines.
A wide range of expertise in labelling
Wet glue labelling for stand-alone and high-speed requirements. There are 4 types of magazine available which are suitable for this type of labelling. During the process, cut and stack labels are first separated before being glued and applied to the containers.
Hotmelt labelling, where Speeds of up to 1000 CPM can be achieved on both the linear and rotary machines. Langguth uses its very own spin-spray process during the initial glueing phase to pull the paper or film labels out of the magazine. The label is then completely wrapped around the container and sealed with a hotmelt strip on the overlap. Rotary machines can also have an output of up to 60,000 bottles/h for beverage companies.
Self adhesive labelling, which are processed on rolls in the labelling machines before the labels (film or paper) are individually separated from the carrier paper by the separator plate and applied to the container. The machines' high-quality labelling heads can handle both complex labelling tasks and high speeds.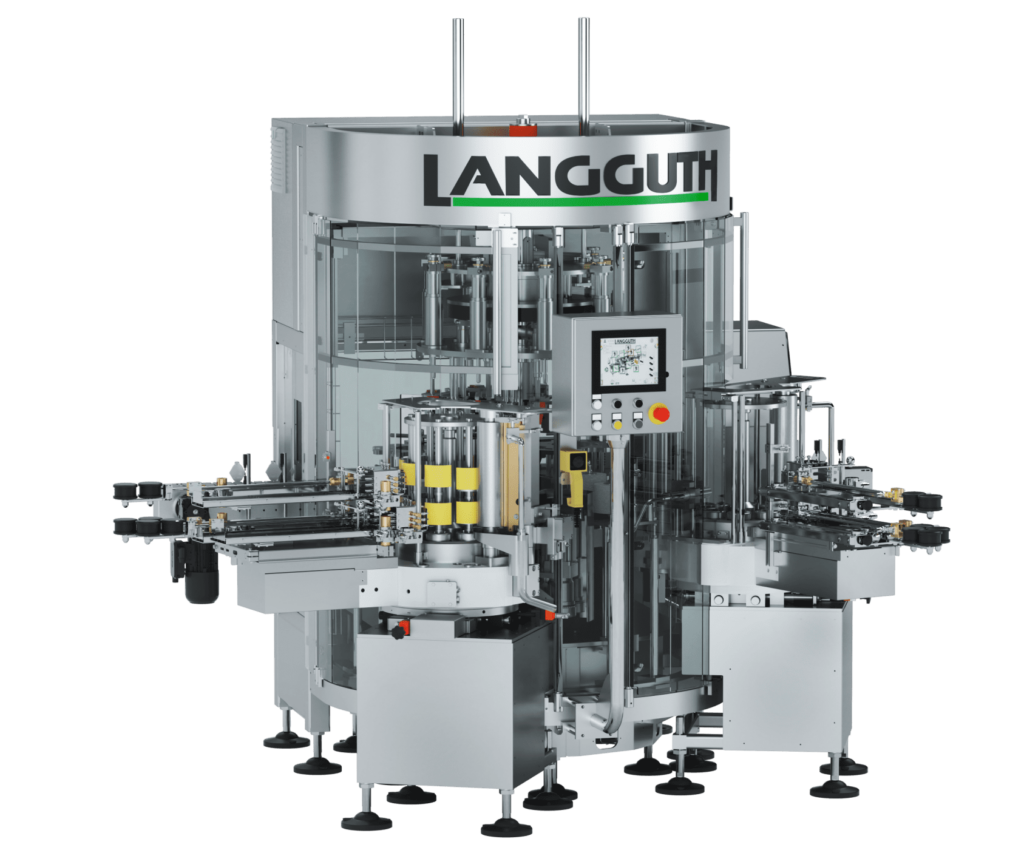 The E 62 series performance criteria
With a capacity of 60,000 labellings per hour, the E 62 series stands for maximum efficiency like no other machine. Coupled with the company's usual reliability and speed, Langguth next model, the moduLAN 818, has been developed with a modern CLEAN design.
The company has therefore succeeded in achieving a balance between proven technology and modern, state-of-the-art design. In this sense, it meets the highest efficiency and availability requirements, while also meeting the demands of the industry 4.0 era.

The labeller's internal control and reporting systems can be integrated as networked components without any problems. Using cut & stack labels, as well as the spin-spraying hotmelt labelling technology, does not only contribute to reducing costs, but also plays an important role in achieving sustainable and resource-saving production.
---