Vehicle automation guarantees flexibility, efficiency and safety
AGV and LGV vehicle systems are an excellent way to increase efficiency, flexibility and safety in factories and warehouses. Here we focus on the Elettric80 group, a leader in integrated intralogistics solutions.
The ever-growing need for automation
Faced with a growing need to increase their factories' productivity and develop new distribution channels, manufacturers are continuously looking to adopt cutting-edge intralogistics solutions to meet the growing demands of their respective markets.

Based in Viano, in the Italian province of Reggio Emilia, the Elletric80 group has operations all over the world and has been working closely with Tetra Pak and Sidel, specialists in the development of automated and integrated intralogistics solutions. The company had been anticipating the arrival of Industry 4.0. since the early 1990s under the name of "Smart Factory" – a new type of sustainable, interconnected and safe factory.
A leader in automation
The group, which has designed nearly 300 integrated factories across the world and more than 5,000 laser guided vehicles, is among the top 20 suppliers of material handling systems, and in 1992, its first automated guided vehicle was designed for the Coster Group.
Elletric80 offers a diverse range of automated solutions, including many different types of palletising robots, laser guided vehicles, high-speed robotic wrappers, pallet control systems, robotic labellers, diaper picking and repackaging, as well as high-density automated warehouses. These solutions have already demonstrated significant benefits in terms of boosting productivity, availability, energy management, equipment durability, safety, as well as return on investment.
The advantages of using AGV et LGV vehicles
AGVs, laser-guided vehicles (LGVs) and autonomous forklifts have therefore become prime options for automating entire supply chains due to the benefits they bring to the table, in terms of both increased flexibility and efficiency.
The E80 autonomous vehicles offer many advantages. In addition to increasing precision and movement speed, which further reduces costs and lead times, the E80 solutions can be fully adapted to meet the specific needs and objectives of each plant. Flexible and scalable, its AVGs and LGVs can be used to manage every stage of the supply chain, from stock entry through to end of the line. They adapt to different picking areas, as well as loading trucks and types of shipping used in other industrial sectors, such as fabrics, beverages, food, ceramics, plastics, pharmaceuticals, personal care, etc.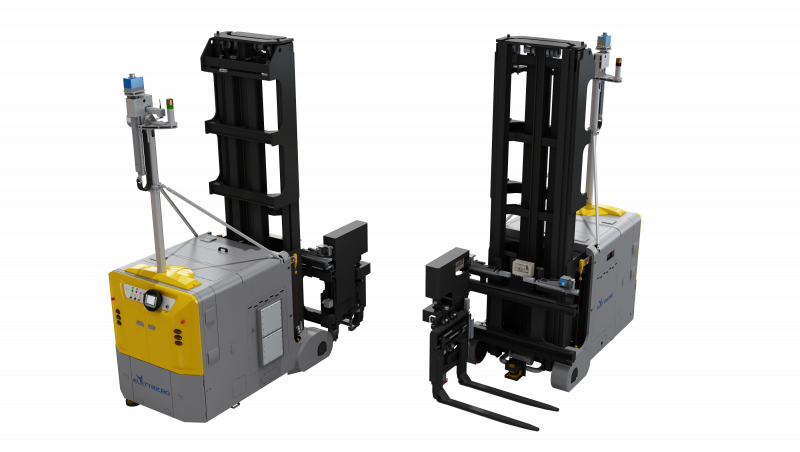 Remote supervision of the entire system in real time is made possible with the "SmartDect® Ultra Wide Band" (or UWB) technology. This way, the fleet's movements and intralogistics flows can be coordinated, while also ensuring a first class level of security within factories and distribution centres. In addition, the 3D mapping technology helps come up with innovative designs for the plant's layout and optimise the trajectories of AGV and LGV AUTOMATIC GUIDED VEHICLES within greenfield sites (newly built by E80 Group) and brownfield sites (E80 Group systems are integrated into an existing plant). Even when the available space is limited, it allows for maximum rationalisation of the work space.
Finally, the performance of these autonomous vehicles is not to be underestimated and is far from being just a benefit on the side. All E80 Group AGVs and LGVs are fitted with latest-generation lithium batteries with induction charging, a technology designed to maximise factory efficiency and reduce battery wear and charging times. These batteries make operations totally safe thanks to its induction technology and wireless charging, which greatly limits the risk of incidents during the vehicle charging process.

They are also capable of detecting the presence of obstacles or people through 360° in their operating environment, making the work area completely safe thanks to the built-in Proximity Laser Scanner (PLS) devices.
---