"We're seeing a new, strong dynamic in the ALL4PACK EMBALLAGE PARIS community in the run-up to the 2024 edition of the show."
Guillaume Schaeffer, Director of ALL4PACK EMBALLAGE PARIS, explains how he and his team are going to stimulate and energize the spirit of innovation at this trade show, Europe's biggest in 2024 for all industries producing and using packaging.
What is your assessment of the 2022 ALL4PACK Emballage Paris edition, which returned after the Covid-related interruption?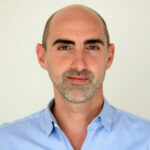 We were very pleased to do this edition in November 2022. It marked the reunion after four years of absence. This was my first edition as the show's director and I was happy to complete it with my entire team. We counted 1,100 exhibitors and brands over the 4 days. We then conducted surveys to measure participant satisfaction. 80% of exhibitors felt that their presence was important for their company and almost 80% perceived a good business climate. Over three-quarters of them were very satisfied with the quality of the visitors. That's very satisfactory to us. We see that ALL4PACK Emballage Paris remains the number one international trade fair for the entire packaging ecosystem. It is necessary because we respond to the themes of all industries using packaging.

The next edition is still a long way off since it will take place in 2024. What is happening in the meantime? How does ALL4PACK Emballages Paris exist between two shows?

2022 was an important moment, first to convince ourselves of the strengths of the show that we had identified beforehand, then to see the areas of improvement in view of all the exchanges we have during the rest of the year with exhibitors and visitors. Yes, the next show is in about 18 months. But all our forces are already mobilized. First, to launch a new identity in order to put the packaging back at the very heart of the name of our show. Because we found that our participants were attached to the very name of "packaging" which was part of the historical event created in 1947. We are therefore proud of this show that is renamed today ALL4PACK Emballage Paris. In parallel, a new visual identity is launched to accompany this change of name and to show that we are in a new dynamic.

How does this new dynamic translate?

We want to be a bigger, stronger and more useful show for the entire ecosystem – packaging and user industries. At the same time, we accompany exhibitors and visitors, while listening to our partners to see what they will also bring and what we can work together. Starting now, we are also starting to work on the content of the show. The objective is simple: to be even more the precursor of trends because we know that the packaging industry is in full revolution. We already talked about it last November. We see that this revolution is accelerating and our slogan is "Innovation never stops". We are forced to innovate in the face of all the issues and we can no longer go back, especially with waste management issues.

How does the sector respond to all the challenges facing it? How does it assimilate, for example, new regulations?
The sector is very active in terms of all the materials. There is certainly plastic, but not only. The industry is working on the whole range of materials used in packaging to meet the demands of consumers and new modes of consumption such as after-out, e-commerce, etc. The agri-food industry is thus very involved in the issues of better food conservation, to transport them properly or better protect them. And then there are the environmental issues related to the reduction of packaging materials, their environmental impact and their re-employment, which is coming back strongly today.

Why did you choose "Innovation never stops" as a new slogan?

With "Innovation never stops", we want to demonstrate ALL4PACK Emballage Paris is the place where the visitor discovers trends and that we position ourselves upstream of innovation. For exhibitors, it is the place for discussions, exchanges, to discover the innovations of tomorrow. We are very strong on content. This is what we saw in 2022 with people coming to learn during conferences or by visiting the space reserved for startups, a place very appreciated by the audience of the show. They are very strong in re-employment and recycling issues. We will further strengthen our position on innovation with more spaces dedicated to all these issues. We are also renewing the ALL4PACK Innovation competition with experts from major companies in the packaging industry, whether it be in the agri-food, pharmaceutical or distribution sectors.

Are there already registrations for the next edition? Do you have a target at the exhibitor level for the 2024 edition?
Registrations at the show are already very active and it's only getting faster. We are pleased to note that these registrations come from both France and abroad. We noticed this at the Interpack show held in May in Germany where everyone is already preparing for the 2024 edition of ALL4PACK Emballage Paris. Our goal is to increase the number of exhibitors and brands, that is to say more than 1100 registered participants in 2022. The goal is to bring all the great leaders of the sector. In 2022, we also welcomed more than 50% of international exhibitors. We are still in the dynamic of having a good half of exhibitors outside France. We are the first European packaging show. Our goal is to support the French industry and present it to the rest of the world.
Can we imagine that ALL4PACK Emballage Paris becomes an annual meeting?
That's not the plan. Rather, we are constantly trying to animate a community around our ALL4PACK brand because people are very mobilised through many events. We give regular meetings to animate this community through exchanges with experts. These meetings will be held at regular intervals between now and 2024, with experts and stakeholders from renowned companies who will be speaking. For example, we have a whole cycle around packaging for mass distribution. And we also have a physical meeting with our entire community on September 20 as part of the "Rencontres ALL4PACK Emballage Paris" at Paris Retail Week, the show dedicated to retail and e-commerce. It will be a series of specialised conferences on this sector which is also concerned with all the issues raised at the beginning of our interview. It will be followed by a moment of conviviality. This is also the quintessence of our activity as organisers.
Read also : Registration for the 2024 edition of ALL4PACK Emballage Paris is open!
---