Plastic pollution: What policymakers and businesses need to do, says OECD
The Organisation for Economic Co-operation and Development (OECD) highlights what is needed to promote plastic recycling in all sectors of economic activity
Twice as much plastic waste is produced in the world today as twenty years ago, and much of it is landfilled, incinerated or dumped into the environment, with only 9% actually recycled, the OECD says in its 2022 report.

This is highlighted in the OECD's Global Plastics Outlook. Measures to reduce the release of plastics into the environment are not keeping pace with the continuing increase in the amount of plastics used and discarded.
The OECD has therefore published a series of recommendations for economic and political actors.
Strengthen economic incentives to support markets for recycled plastics
Recycling can make a significant contribution to reducing the environmental footprint of plastics by helping to reduce demand for equivalent primary materials. However, secondary plastics such as plastics made from recycled end-of-life plastic articles currently account for only 6% of the raw materials used worldwide to produce new plastics. The market share of secondary plastics is projected to double by 2060.
Regulation has a major impact on the economics of recycling and the market for secondary plastics. Plastics are only recycled on a large scale if it is profitable to do so. Economic and regulatory instruments can ensure the economic attractiveness of collecting and recycling plastic waste. Incentives for source separation also play a decisive role, as the quality of the separation determines the purity and value of the recycled materials, and therefore the profitability of the recycling operations.
Stimulating innovation for a more circular plastics life cycle
Innovation can bring significant environmental benefits by reducing the need for primary plastics, extending the useful life of products and facilitating recycling. The report shows that the number of environmentally useful technologies patented in the field of plastics more than tripled between 1990 and 2017.
However, only 1.2% of plastics-related innovations are environmentally relevant. Public action needs to be more ambitious, combining investment in innovation with interventions to increase demand for circular solutions and at the same time contain overall plastics consumption.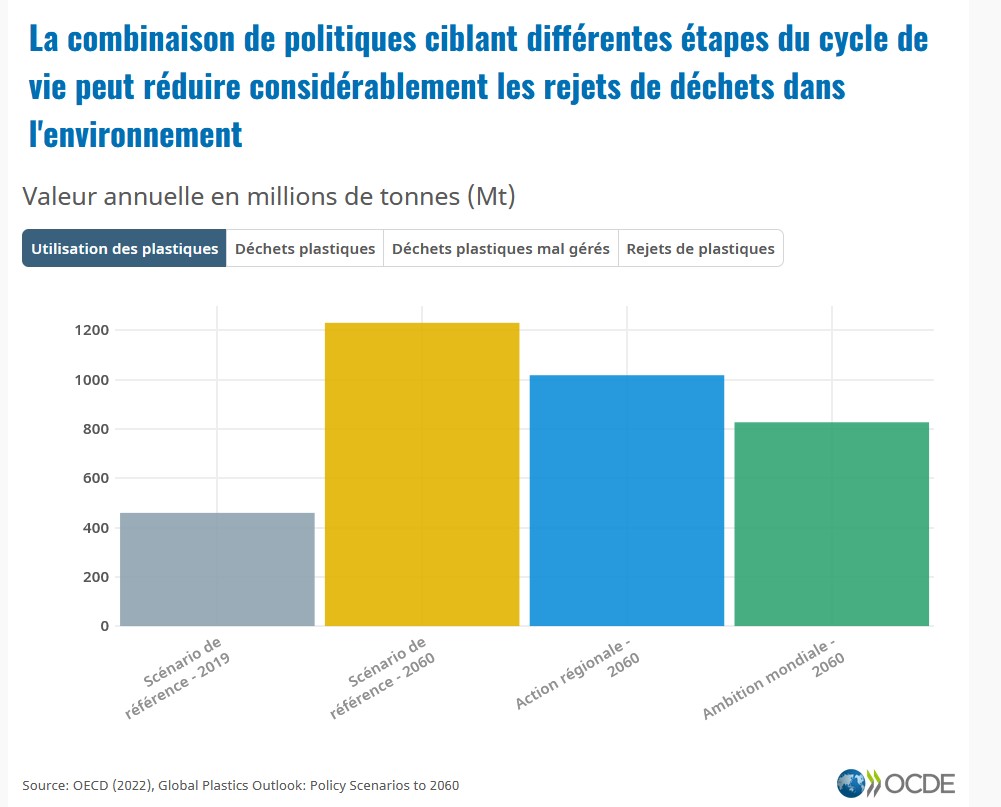 Raising the level of ambition of public action at national level
Public policy is a key lever for reducing the environmental impacts of plastics production and use, but public action on plastics is currently fragmented and largely unfinished. A roadmap is proposed for countries to reduce the release of macroplastics.
It provides for three increasingly ambitious phases:
Closing waste streams.
Create incentives for recycling and improve source separation.
Stimulate demand and optimise design to make plastics value chains more circular and recycled plastics more competitively priced.
While in the baseline scenario, global plastic use, waste and related environmental damage are expected to increase by 2060, appropriate and ambitious policies can significantly reduce future environmental damage and in particular the release of plastics into the environment. The level of ambition of policies and international commitment will determine the extent to which plastic pollution is reduced.
The Global Plastics Outlook compares two action scenarios with different levels of stringency. The Regional Action scenario reflects a regionally differentiated commitment, where measures are more ambitious in OECD countries than in non-OECD countries. The Global Ambition scenario focuses on a very stringent set of measures to reduce global plastics releases to near zero by 2060.
Strengthen international cooperation to make plastics value chains more circular and reduce net plastics releases to zero
As plastics enter global value chains and are traded internationally, an alignment of design approaches and chemical regulations across countries is essential. While poor waste management remains widespread, particularly in developing countries, massive investment in basic waste management infrastructure is needed.
Official Development Assistance (ODA) can help accelerate investment. However, the share of ODA specifically targeting plastics remains marginal in total ODA spending, accounting for only 0.2% of gross ODA commitments during 2017-19. Moreover, available budgets represent only a fraction of total financing needs.
In addition to ODA, other sources of funding will need to be mobilised to ensure adequate and sustainable financing. International support and political leadership at the local level will be essential to facilitate investments and governance structures.
---