L'Oréal Group has established itself as a key contributor toward circular and responsible economy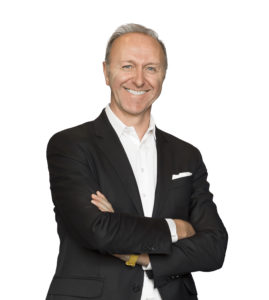 Philippe Bonningue, director of L'Oréal's Packaging & Circular Economy Stewardship division has agreed to answer our questions as a member of the Pack Expert Committee at All4Pack 2022, taking place in Villepinte this November.
What is your role at L'Oréal ?
Having been in charge of Sustainable Packaging & Development at L'Oréal since 2013 where I played an active role in the creation of our programmes, Sharing Beauty With All (2013-2020) and L'Oréal For The Future (L4TF 2020-2030), I am now responsible for Packaging & Circular Economy Stewardship, whose role is to support and defend L'Oréal's positions on a global level, and promote our 'thought-leadership' in the fields of responsible packaging, as well as the circular economy.
How can we produce cosmetic products and at the same time, recycle their packaging ?
When we are designing cosmetic packaging for our consumers, we first look at whether we can optimise the use of necessary resources, such as raw materials, transport, energy conversion, waste generation, etc. Then, we study the opportunity to make the object reusable or refillable object, while taking into account the constraints, like having to protect the cosmetic formula or consumer acceptance. Finally, since one day the object will become a "used product", our objective is to come up with a recyclable design, so it becomes a new material which can be integrated into the virtuous cycle of a circular economy.

These steps have been part of our Eco-design Packaging process since 2007, which was developed around the '3Rs': reduce, replace, recycle. But having a '3R' strategy without verifying its real environmental impact during the design process would not have been satisfactory. Also, 100% of L'Oréal's product launches have passed multi-criteria LCA thanks to the SPOT methodology (Sustainable Product Optimisation Tool), which was developed and deployed by the company in 2017 – thus 96% of new products have been improved in 2021.
As part of the L4TF programme, we have also made three major packaging commitments. First, to start reducing the amount of packaging needed by 20% by 2030. Second, that 100% of the plastics used will be of recycled or bio-sourced origin by 2030. And finally that 100% of plastic packaging will be reusable, recyclable or compostable by 2025.
What is your overall vision for the future of the packaging industry ?
Packaging is one of the major contributors to product performance, consumer experience and product sustainability. The key is that each packaging component has a "raison d'être" and achieving it can be optimised.

A few recent examples are the launch of Garnier's shampoo Solide, where its packaging is reduced to a certified cardboard case. Or Armani's refillable perfume "My Way" with its specialised refill, which allows for a 55% reduction of glass and more than 60% of plastic, compared to other identical services.
Today, a total circularity of packaging, both upstream and downstream, is a "must have". Just like cooperation, because we cannot succeed alone when it comes to taking on this topic. To foster cooperation and be able to move forward stronger, we are active members and partners of the Ellen MacArthur Foundation and the Consumer Good Forum CGF.
Has L'Oréal developed new innovative solutions in the field of packaging and the circular economy ?
The consumer experience, performance and sustainability of packaging cannot be achieved without innovation.

In 2021, L'Oréal launched the 1st cosmetic tube containing cardboard with its partner Albéa for Garnier, La Roche-Posay, Vichy, Biotherm, which reduces the share of plastic by 45 to 70% compared to classic tubes.

In the field of "reusables", Garnier, La Roche-Posay, Sanoflore, Kiehl's have launched eco-refills (eco-pockets), greatly limiting plastic consumption. In skincare and make-up, Lancôme and Valentino have launched 'refillable' ranges guaranteeing absolute product safety and easy handling for the consumer. In the field of perfumes, we can again mention Armani (My Way) refills, or Mugler fountains.

In line with our commitment to circularity and using recycled material for plastic packaging, L'Oréal has created the CARBIOS consortium in 2018 to develop and promote advanced recycling techniques using enzymes for PET. This real innovation has enabled the production of a few bottles from June 2021 for Biotherm. In order to offer advanced recycling processes and expand the pool of waste which can be converted into new packaging material, we are also partners of LOOP®, Purecycle, LanzaTech and Eastman. This is key, because packaging pollution is a major issue which needs to be addressed to protect our planet.
To illustrate this, 21% of all plastic and 67% of PET consumed by L'Oréal came from a 'recycled' origin in 2021. This fine performance is the result of hard work and motivation, as well as the efforts of our development, packaging and marketing teams.

Finally, since collecting waste is the major challenge of the coming decade, we are helping set up EPR/PRO (Extended Producer Responsibility/Producer Responsibility Organisation) wherever possible, in close collaboration with our country teams and their local networks.
What do you bring personally or on behalf of L'Oréal to the Pack Expert committee? What would you like to bring in the future ?
I had the chance to participate in the development and launch of new packaging products for many L'Oréal brands across several geographical areas.

Contributing to the creation of the packaging programmes, "Sharing Beauty with All" and L4TF, allowed me to study in great detail "what matters" when it comes to sustainability and environmental footprint. I imagine that, on my humble scale, this global experience feeds the debates and discussions which we have within the ALL4PACK Experts Committee, while making it possible to better define, with the help of other experts on the committee, the show's agendas.
Sharing our ambitions and visions with start-ups, established players in the sector and our extended ecosystem is anchored in the L'Oréal group's DNA. Also, participation in committees like ALL4PACK Emballage PARIS is part of our vision of collaboration and cooperation.

As an illustration, after having developed our S.P.O.T. methodology, we wanted to co-create the cosmetic packaging footprint methodology by co-founding the S.P.I.C.E. initiative (Sustainable Packaging Initiative for Cosmetics) with Quantis, which today unites more than 30 global cosmetics players.
What about ALL4PACK's initiative to launch its own bilingual newsroom with publications throughout the year ?
Exchanging and sharing are two key levers of success when it comes to sustainability and having an impact on a global scale.
This newsroom, which promotes knowledge and exchange for all audiences, including experts and less knowledgeable, is an extraordinary vehicle, and will undoubtedly capture the attention of as many visitors as possible, and satisfy them during the Show between 21st and 24th of November 2022.

---