EcoVadis ranks Ecolean among the world's most sustainable companies
Ecolean, a company specializing in the production of lightweight and environmentally friendly packaging solutions, has once again been recognized as one of the most sustainable companies worldwide by EcoVadis, in the top 1% of companies evaluated.
EcoVadis, the world's most trusted sustainability rating provider, evaluates more than 100,000 companies from 175 countries and 200 industries each year. For its dedicated and constantly evolving work in the field of sustainability, Ecolean has been awarded EcoVadis' highest gold medal for the third year in a row.
Third-party sustainability verification assessments are essential for companies aligning themselves with sustainability, providing a benchmark and guidance on how to further improve their performance. In recent years, low-carbon packaging provided by producers with sustainability on their agenda has become one of the most important factors in the adoption of sustainability practices in the FMCG food industry.
Ecolean's unique packaging system has always been lightweight and resource efficient: that's why many customers choose it. Anna Svensson, Ecolean's marketing director, said, "The EcoVadis rating for 2023 gives additional credence to our sustainability work than just the performance of our products, of which we are very proud, and which are also appreciated by our customers."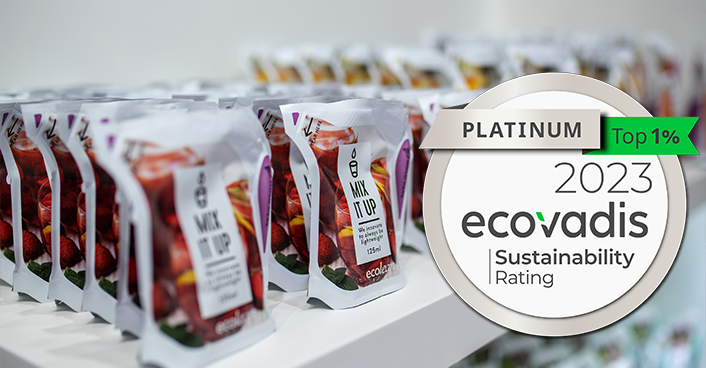 EcoVadis' annual assessments serve as an ideal basis for measuring companies' sustainability work and for benchmarking with other companies. Anna Palminger, director of sustainability at Ecolean, says, "Our continuous improvements in policies, activities and reporting have earned us a few more points since last year, placing us once again in the top 1% of 100,000 companies."
In 2023, Ecolean improved its total score to 82 from 75 in 2022, out of a maximum of 100. The company improved its performance in the areas of labor and human rights, ethics and sustainable procurement.
Ecolean has always focused on providing innovative packaging solutions with a small environmental footprint, high credibility in food safety and consumer convenience.
The company was founded in Sweden in 1996 and has business activities in more than 20 countries, with a strong presence in the Asian markets. Ecolean's largest markets are China, Pakistan and Vietnam. The company has 500 employees.
In conclusion, Ecolean's ongoing and dedicated work in sustainability has once again been recognized, proving their commitment to sustainable practices. EcoVadis' high rating for the company serves as a benchmark for other companies to improve their sustainability performance, and their unique packaging system sets an excellent example for the FMCG food industry.
---