CAM packaging solutions expert looks to future
The CAM Group has been an expert in packaging machinery for over 72 years and offers a wide range of machines for handling, packaging and overwrapping tasks. Durability and modernity are the cardinal values of this company.
CAM Automatic Packaging Machines specialises in the field of process and packaging machines, as well as marking and coding for the multi-industry sector, particularly for the food, cosmetics and pharmaceutical industries. Founded in 1949 by Antonio Martelli, the company has its origins in a small workshop in Bologna where the first Italian automatic cartoning machine was designed, whose main innovation consisted of a simple double blade mechanism installed on hinges which, once inserted inside the flat carton, opened and shaped it so that it was ready to receive its contents.
The group has grown since its beginnings in Bologna and today consists of 15 manufacturing sites and 17 sales offices with agents in 27 countries. CAM also has 14 centres dedicated solely to after-sales support, to provide the best possible technical assistance to its customers around the world.
CAM's efficient and sustainable overwrapping
The company currently designs and produces five models of overwrappers that are distinguished by their operational flexibility, including easy format changes and reliable performance, even when using thin packaging materials with difficult handling properties. They are designed to package cosmetic, pharmaceutical and food products at medium to high speeds.
However, the RB/RD range stands out from its peers because it has an important feature, which is the result of many years of feedback and research in the field of product packaging.
CAM has developed a special type of packaging for chocolate-based dairy products, which has the unique feature of being both plastic and compostable: it is a biopolymer plastic with heat-sealable and compostable characteristics. The latter has been developed to be compatible with the RB/RD range, which becomes capable of processing a 100% compostable material of recyclability class A.
In addition, the machine operates by means of a special heating system setting designed to ensure that the environmental impact remains zero, or at worst minimal, even if a non-recyclable material such as a heat-sealable polypropylene is used during the packaging process.
Safer "smart" pharmaceutical packaging
CAM is committed to offering ever more solutions and flexibility by providing cartoning machines for a constantly changing market.
Following an agreement with IGB, an Italian manufacturer of cartons for the pharmaceutical sector, CAM decided to adapt its PMM range of intermittent motion horizontal cartoning machines, increasing the initial thickness of the cartons processed from 0.5 mm to 1.2 mm, with the aim of providing machines capable of processing "Child Resistant" certified packaging, which is thicker and more complex than "conventional" packaging.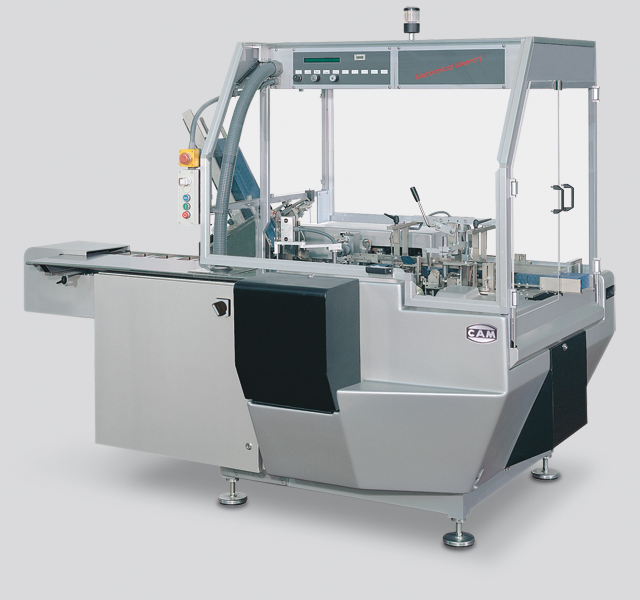 This type of packaging is much more robust thanks to the greater thickness of the packaging material. It is also equipped with a child safety device in the form of an ingenious flap opening and closing system, making it impossible to tamper with.
This is impossible, unless you have the key to open the box, which is clearly marked "KEY" on the packaging. This key can be detached and stored for safety purposes. The set can then be opened and locked by simply pressing the folded key inserted in the "FLAP" slot of the box.
https://www.youtube.com/watch?v=u4EP8Z7tVSY
---