Congost's ergonomic plastic boxes and containers save space and lighten the load
Congost Plastic is a Spanish company with more than 50-years experience in the plastics industry. The plastic boxes and containers it designs have been widely adopted in various industries and have become a benchmark in terms of optimising space and transport for those who use them.
Congost Plastic is a leader in the field of plastics. Their head office, in Santa Eulalia de Ronçana (Barcelona), has 11,000 m2 of business premises, as well as 44,000 m2 of land, in order to make the delivery of orders as smooth as possible. Thanks to its team of professionals and their expertise, the plastic solutions it offers are have been specifically adapted for each industrial sector.

Its catalogue boasts a wide range of products, including stackable and nestable boxes, pallets, gratings, waste collectors, plastic barriers, rolling trays and containers from seven to 1,120 litres. The plastic industry giant's reputation has therefore already been well-established. The company also has at its disposal the latest technologies within the plastic industry and can guarantee quality during production and distribution thanks to its ISO 9001:2015 certification.

While obviously having a strong performance in its home market, Congost Plastic has also been present in France since 2001 through its subsidiary Congost Plastiques S.A.R.L of Bordeaux. The same is true in Italy through its subsidiary Congost Plast S.r.l. and in Portugal, through the official distributor Baquelite Liz.

Popular among many companies in multiple sectors for their practical and ergonomic benefits. Congost boxes and other stackable and nestable containers, can add real value for those who are looking to optimise their storage and transport space, while at the same time being comfortable for employees to handle, whether they are full or not.
The ideal solution for maximising space
Thanks to their robust and stable design, Congost containers offer customers maximum performance while also having an extra long life. In addition, they are an excellent prospect for those wanting to make the most of their time and space.

These strong and lightweight boxes are the ideal solution for maximising space, no matter how crowded and cramped it is. They fit perfectly inside each other when empty and conversely, can easily be stacked together when full. As a result, they can yield significant savings when it come to space and transport. This advantage applies as much to storage spaces in warehouses as it does to trailers transporting goods on the road.
Plastic containers which guarantee comfort at work
As well as saving on space and transport, the containers benefit from being light weight, because of the plastic used to make them. This property has made plastic a material of choice for the logistics sector, in particular for steps in the production and distribution process which require a person to physically carry or handle the load. But thanks to Congost containers' lightness and strong grip, handling tasks can be carried out much faster and with less risk of having an accident.
Congost plastic also comes with a wide range of perforation options and in different formats, so the container can be tailored to the specific needs of each customer and is perfectly suited to the activity for which it is required.
Materials which meet the strictest standards
All of Congost's plastic containers are made from high quality polypropylene and HDPE (high density polyethylene), which is known for being widely used throughout the medical, chemical and food sectors.

Congost plastic containers are therefore able to meet the strict requirements for storing fresh food, because all the materials used to make them are food grade, and can therefore meet optimal hygienic requirements for food safety.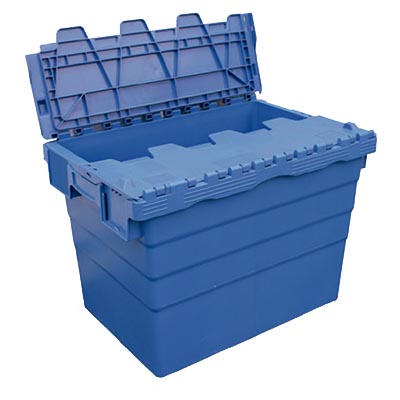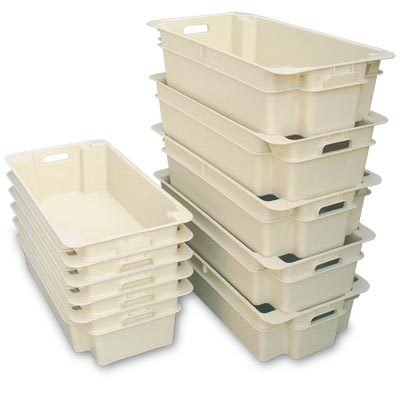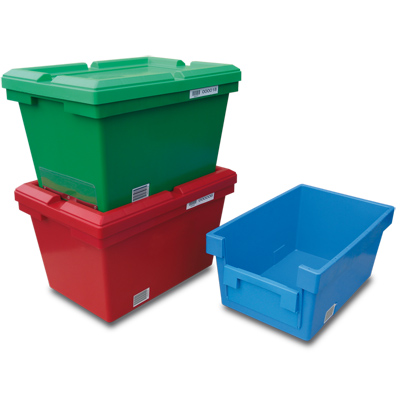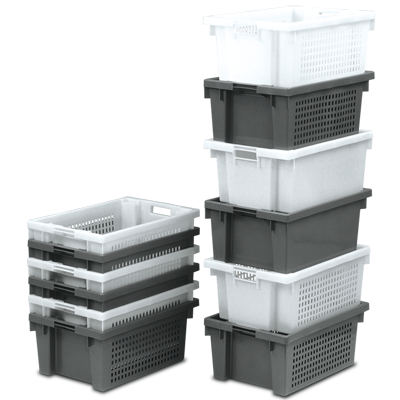 ---