"The revolution is in reuse and repurposing,"says Fabrice Peltier, expert-consultant in packaging eco-design
Fabrice Peltier has been progressing through the packaging sector for more than 30 years to establish himself as the "pope" of eco-design in the area.
In his latest book, "Packaging Revolution – Second Period," he presents and analyses 100 packaging examples which were developed and put on the market in compliance with regulations but also moving towards ecological transition, or "fair packaging". A large exhibition will allow visitors to better understand these developments during ALL4PACK Emballage Paris.
What determines the need today for a "packaging revolution" in our daily lives?
There are many factors to this packaging revolution. First of all, there are the laws and regulations that have been in place for a few years and which require manufacturers to change tactic. And then there are also strong – and often contradictory – expectations from consumers who do not want packaging but who above all want this "non-packaging" to open properly and be pretty. Basically, the producer's problem today lies in the waste status of his packaging. In fact, it is the end of use they have to think about. I should  say that we now find organisations and start-ups which consider this problem deeply, coming up with new solutions for reuse, consignment and bulk sales. And then there are also the distributors. They do not manufacture anything, but they make their requirements. For example, some distributors in France or England have already declared that in the short term, there will be no more plastic. They are therefore committed to zero plastic.
Is there one solution which ticks all the boxes for ethical packaging?
There are visionary business leaders who are ultimately committing to packaging that is a bit more ethical. I use this term in the book because there is no ideal solution, no miracle solution, but there are solutions that are less bad than others…
What have you observed since your last work was published in 2020?
Back then I identified 28 trends and my observation tells me that these will continue in 2022 around three main areas of experiment: paper/cardboard, zero plastic and reuse/repurpose. The evolution towards "zero plastic" is also exploding in all markets. The fact that, according to surveys, 5% of professionals say they want to stop using plastic may appear weak. But it's an extremely strong sign of people getting involved, saying "we don't want this anymore."
Can we really achieve "zero plastic"?
With zero plastic, it's difficult to guarantee the quality of protection of the content. That is the basic role of packaging because the biggest waste is not in the packaging materials but in the content. So we have this whole trend for packaging with less plastic. Many people will therefore continue with simplified recyclable plastic, with recycled plastic and plastic from biomass.
What is reuse and repurpose ?
The big shake-up in this revolution is indeed reuse and purpose. But this is not depositing the product for reuse. The first thing is to refill at home with several systems – ultra-concentrated, dehydrated or tablet. This drastically reduces packaging and has a lower impact on the environment. And there is reusable packaging under industrial conditions. We are only at the beginning but we are working on it. And finally, selling loose goods, with containers. However, we will have to find the right solutions.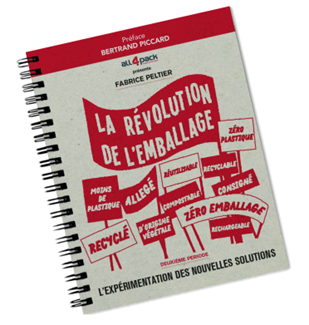 What are you showing from your book at the ALL4PACK Packaging Paris?
The book will present 100 packages that I recovered accompanied by 500 photos. The selected products are examined to show their strengths, weaknesses and possible improvements. In the book, I also gave a platform to retailers. I asked them "why did you do that?" and "where are you going?" The answers show that both manufacturers and retailers are working and doing things. They do certainly have different philosophies about the environment and packaging. But on the other hand, they are not sure they have the best solution. It is the small start-ups that often think they have found the Holy Grail!
All this will be discovered in the book or in this very important show ALL4PACK Emballage Paris. Visitors will also be able to see these products – though without touching them: but we will never have had such a grouping of innovative products at an exhibition such as the one we are going to show you!
---