Reusability at the forefront with Firplast's R'Box range
Firplast is present at the ALL4PACK Emballage Paris exhibition at the Parc des Expositions de Villepinte to present its latest innovations to the public, including its famous R'Box range.
Reusability as a battle horse
Ecological concerns are driving many industries to change their practices, and the food industry is far from being an exception to the trend. Hence the constant search for reusable food packaging that is more ecological and more respectful of the environment.
This is a challenge that Firplast has been working to meet for several years, and the initiative has been given new impetus with R'Box, a range of robust, sustainable and responsible food packaging offered by the company through a consignment service: dessert cups, bentos, salad bowls, etc. This is a complete range of food containers offered to catering professionals.
A complete range to meet today's challenges
Firplast's offer includes 100% French manufacturing, as well as the consignment of these containers, in order to respond to new issues, whether environmental or social.
This initiative is in line with both the AGEC law and the report on the standardisation and rationalisation of reusable packaging published in 2021 by CITEO, both of which advocate reusable packaging as a future alternative.
The R'Box containers are thus produced in PBT (polybutylene terephthalate) for a result that is attractive, practical and durable, while respecting the various constraints of food protection, such as being airtight, heat-sealable, or even being able to be placed in the microwave or refrigerator. Thus, this fully recyclable material is resistant to both thermal and physical shocks, and is perfectly suited to multiple passages in industrial dishwashers. R'box food containers can be stacked and inserted and can be customised by restaurant owners.
At the end of their life, the containers can be returned to Firplast, which will take care of recycling them into other non-food product categories.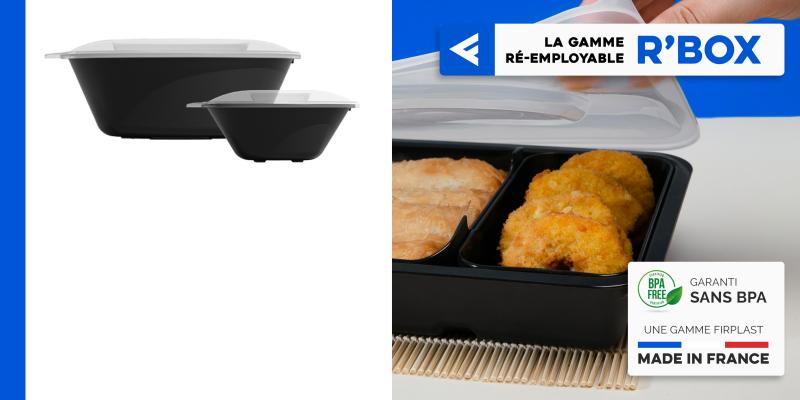 ---