ATS-Tanner reinvents real paper
The TruePaper water-based adhesive has redefined the rules of banding with a product that is as durable as it is adaptable to all contexts. An innovation from ATS-Tanner France.
ATS provides innovative and durable banding solutions for all types of sales packaging, as well as for packaging logistics through a range of machines and materials dedicated to banding during the storage and shipment of products, including its famous "TruePaper".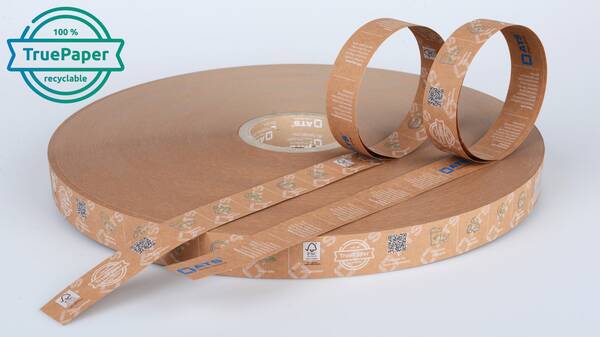 TruePaper is an ecologically sustainable paper band that can be sealed using ultrasonic and heatseal technology, with minimal energy consumption. Made from at least 95% pure virgin paper and over 50% recycled fibre, TruePaper is fully recyclable in the normal paper stream and is compatible with direct food contact. This is a far better solution than most traditional plastic packaging, without the usual disadvantages associated with these packaging techniques.
TruePaper, as adaptable as it is durable
In principle, any paper coated with the new water-based glue can become TruePaper, allowing for flexibility in processing and use, as well as increased security in the supply chain. Banding replaces film or shrink sleeves, significantly reducing the consumption of plastic and packaging materials.
The durable paper band is suitable for all types and sizes of products and can be ultrasonically sealed, a much more energy efficient technique than traditional heat sealing. TruePaper will also be suitable for heatseal machines, with a tensile shear strength during the sealing process comparable to that of traditional polypropylene coated banding paper.
ATS banding machines set the standard
TruePaper fits on any banding machine for minimum time spent changing supply rolls or switching from one type of banding to another.
ATS banding machines further reduce this time when using TruePaper. The ATS US-2000 MD-A, for example, not only handles and adapts the choice of film – including PP, HDPE or pure PLA – or paper banding. It also accommodates different web widths without any compromise in quality or performance. It takes just 3 minutes to switch from one banding mode to another, with the machine supporting widths from 30 mm to 60 mm.
TruePaper complies with European safety and durability directives
The printed TruePaper ATS bands are certified as Class AA according to the BRCGS Packaging Materials Global Standard, and all materials used in its design are FDA compliant. TruePaper is also available with FSC certification, in both cases with a recycling number 22 PAP application according to the recycling code.
TruePaper has a wide range of potential applications, including the food industry, but also the medical and pharmaceutical sectors, as well as hygiene, beauty and cosmetics. It complies with Directive 2019/904/EU on the reduction of the impact of certain plastic products on the environment, as well as the AGEC Circular Economy Law and the Circular Economy Law 7/2022 which came into force in France and Spain during 2022.
---