Webinar ALL4PACK EMBALLAGE PARIS: "3R" logistics packaging at the heart of the eco-responsible revolution
The future of logistics packaging and its environmental impact was the subject of a panel discussion.
On September 11, 2023, ALL4PACK EMBALLAGE PARIS organised a webinar on "3R" logistics packaging: reduce, reuse, recycle. This event brought together renowned experts from the world of packaging and logistics, including:
Fabrice Peltier, packaging expert.
Guillaume Schaeffer, Exhibition Director – ALL4PACK EMBALLAGE PARIS.
Ulrick Parfum, Purchasing and Supply Director, Raja Group.
Edouard Chabrol, CEO of Cubyn.
Together, they highlighted the crucial importance of logistics packaging and its impact on the environment and customer satisfaction.
The often underestimated impact of logistics packaging
While sales packaging attracts most of the attention, logistics packaging, although less visible, plays an equally crucial role. This protection, essential to ensuring that products reach consumers' hands intact, has a considerable environmental impact.
Towards greener, more efficient logistics
The effectiveness of packaging is not only measured by its ability to protect products. During the webinar, Raja and Cubyn indicated that they were aiming for a 40% void rate, a key measure of sustainability. Thanks to innovative software, packaging is chosen according to the order, eliminating superfluous packaging and reducing environmental impact.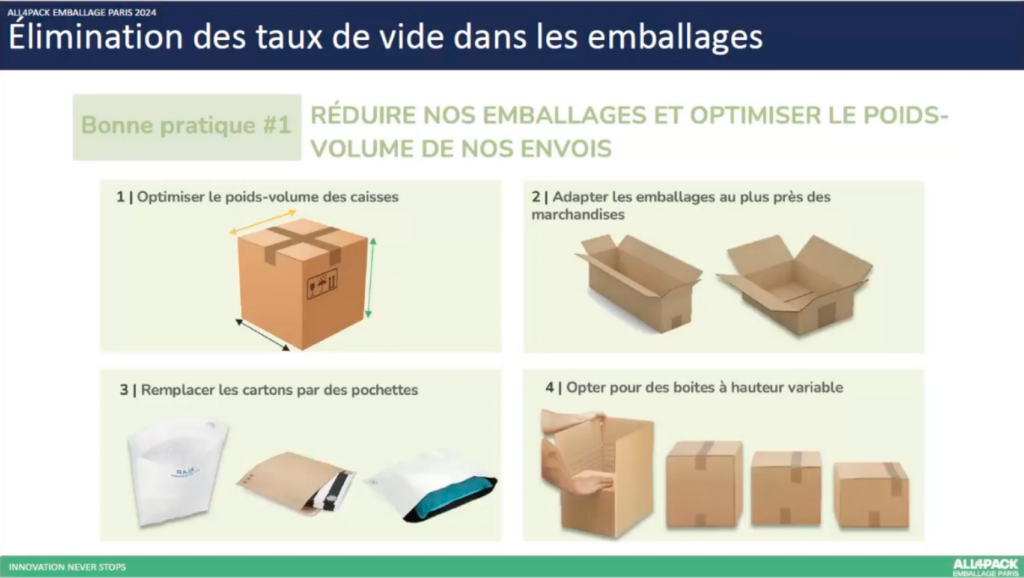 Distance selling and e-commerce can have less impact on the environment than traditional retailing. Logistics companies, by adopting sustainable packaging solutions, have the power to reduce this impact. The integration of recyclable materials is essential to an eco-responsible approach.
Customer satisfaction is a priority
Poorly chosen packaging can lead to customer dissatisfaction. It is therefore essential to test and select the right packaging to guarantee customer satisfaction while remaining economically efficient.
The challenge of standardisation
In the final part of the webinar, the experts addressed the subject of packaging standardisation. Although each flow has its own specificities, it is essential to adopt standards to optimise transport and reduce costs. Moulded wood pallets, for example, are stackable, which optimises transport. What's more, they are made from single-material products, making them eco-responsible. Other solutions, such as reusable straps and carts, were also mentioned.
Packaging reuse
Another crucial point discussed was the reuse of packaging. Cubyn, for example, has adopted a policy of reusing cardboard in good condition. In addition, the company has experimented with the use of standardised containers for storage, facilitating receiving operations. The adoption of reusable packaging is a growing trend that can have a significant impact on the environment.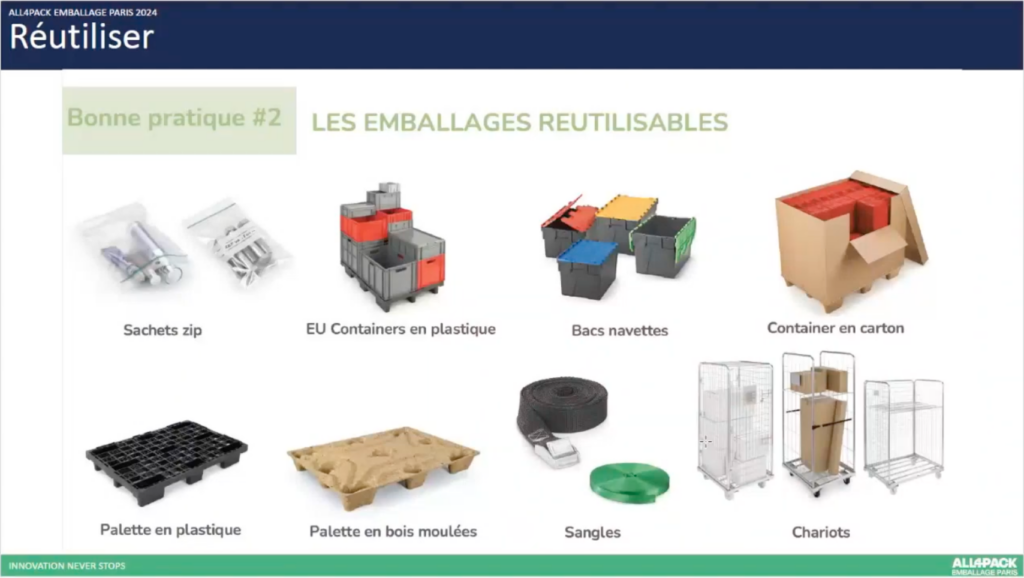 The problem of returns in e-commerce
Returns are a key issue for e-tailers. Many receive returns that are damaged and unfit for resale. The reason for this? End-consumers often use makeshift packaging to return a product that doesn't suit them, whether it's a textile or another type of item. A simple solution was found: add a second adhesive strip to the pouches or boxes. This allows the customer to return an item easily and in good condition, doubling the useful life of the packaging at minimal extra cost. This initiative also illustrates the commercial vocation of packaging: to simplify the consumer's life while guaranteeing customer satisfaction.
Eco-design: finding the right balance
Eco-design is a recurring theme in packaging discussions. The aim is to guarantee optimum protection of contents while minimising environmental impact. Packaging must protect its contents, which often have a larger ecological footprint than the packaging itself. However, the current trend is towards sobriety. Consumers are increasingly aware of the environmental impact of their purchases, and are critical of excessive packaging. Personalisation, notably through the unboxing experience, has been a strong trend in recent years, but it seems to be running out of steam in favour of a more sober, eco-responsible approach.
The changing vision of consumers
Consumer expectations are changing. There was a time when recycled packaging was in demand, but without the visible signs of recycling. Today, the trend is reversed: consumers want to see and understand the eco-responsible origins of their packaging. This general awareness translates into a demand for simple, practical and ergonomic packaging that also conveys the brand's image.
Watch the webinar: "3R" logistics packaging
To find out more: The "3R" materials revolution: reduce, reuse, recycle
---