Plastic film has bright future in USA according to study by Freedonia Group
The Freedonia Group has just published a study on the evolution of plastic film demand in the United States. The forecast is promising for the sector: demand is expected to grow by 1.3% per year to reach $32.5 billion by 2026.
The continued increase in demand in the United States is being driven by a number of positive factors, according to research by the Freedonia Group.
These include the continued growth of e-commerce, which is driving sales of flexible packaging, tapes and labels using plastic films, as well as stretch and shrink films used for pallet collation. The continued replacement of rigid packaging with flexible varieties, which offer source reduction, light-weighting properties and lower shipping costs. The development of new plastic film formulations that have better barrier and durability properties or are more easily recyclable.
Secondary and tertiary packaging are expected to represent the largest absolute gains, driven by the continued expansion of e-commerce as a retail channel, according to the study.
Secondary and tertiary packaging applications such as stretch film and shrink film are critical to online order fulfillment through their use in pallet consolidation, where plastic film offers convenience and a level of packaging protection at a lower cost than some materials.
The rapid increase in online sales will also support demand for tapes and labels, particularly pressure sensitive labels, which are widely used for shipping, warehousing and returns by online retailers.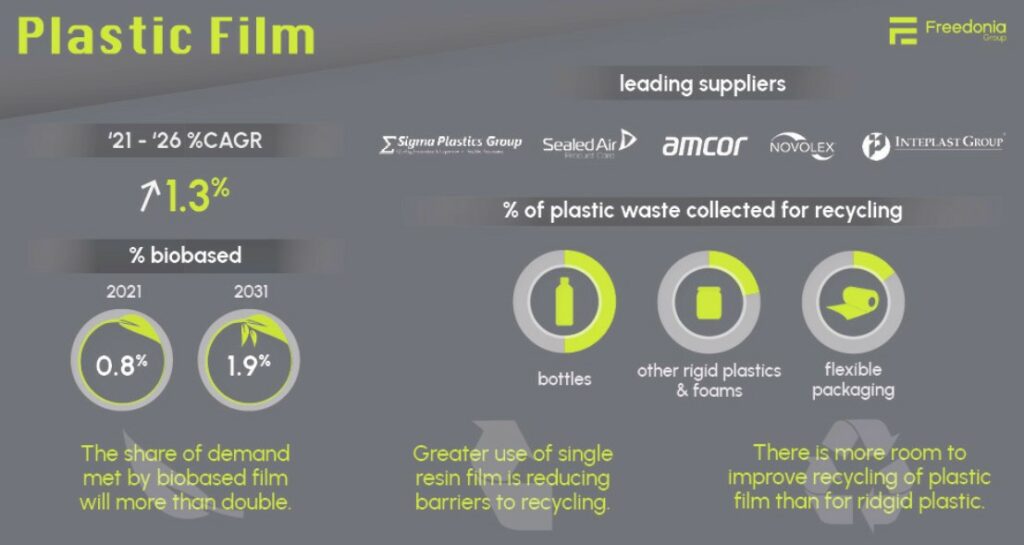 Sustainability concerns drive the growth of bio-based plastic films
Sustainability concerns have had an impact on the plastic film market in the US, with government regulations and consumer sentiment driving the move away from single-use plastic products and increasing interest in environmentally friendly packaging. Bio-based film will benefit from these trends and grow rapidly in the future.
Although it will still only account for a small portion of demand, bio-based resin will increase its market share, supported by lower prices, improved formulations and state and local government bans and restrictions on single-use plastic bags, from which types using bio-based resins are generally exempt.
---