Weber Marking Systems creates labelling machine designed for e-commerce
The Legi-Flex 6100 from Weber Marking Systems has been designed and manufactured to meet the ever increasing needs of the logistics and e-commerce markets.
The Legi-Flex 6100 e-commerce labeller automates logistics processes, optimising production line efficiency and reducing costs: its labelling system can print all shipping information on a label and automatically apply it to the product concerned. Delivery notes can be automatically distributed in packages and pallets can be labelled quickly to maximise productivity.
Weber Marking Systems' small revolution
The innovative design addresses the automation needs of businesses, particularly in the handling and labelling of products and packages.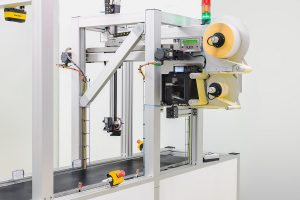 Traditionally, packages are labelled by printing systems in a fixed position: devices that require some alignment or guidance for product positioning to ensure standardised labelling.
The latest sensor technology in Weber Marking Systems' latest machine recognises the position of each box and then automatically adjusts to accurately label the intended location: it adapts to the width, height and rotation of each product to accurately identify it.
The Legi-Flex 6100 automatically prints and applies labels to packages of all shapes and sizes. One of the most remarkable features of this machine is its 3D labelling module, which reduces the number of labelling systems required per line to one, in contrast to conventional labelling systems.
---