Marceau breaks all records
The Marceau company has been a regular participant at ALL4PACK Emballage Paris since 2008, and is a specialist in intralogistics for handling palletised loads. Antoine Marceau, business manager in the family business, agreed to tell us more.
Marceau, a family-owned SME expert in the manufacture, design and integration of machines dedicated to intralogistics for handling loads on pallets, is dedicated to meeting the needs of logisticians, who often face specific constraints.
ALL4PACK Emballage Paris, a must for Marceau
"ALL4PACK Emballage Paris is the most internationally oriented exhibition, where we position ourselves as a renowned French-made company, in France," says Antoine Marceau, adding that the company particularly stands out in this respect "by integrating the entire manufacturing, installation and after-sales service process from a single structure, based in Pontarlier, near the Swiss border."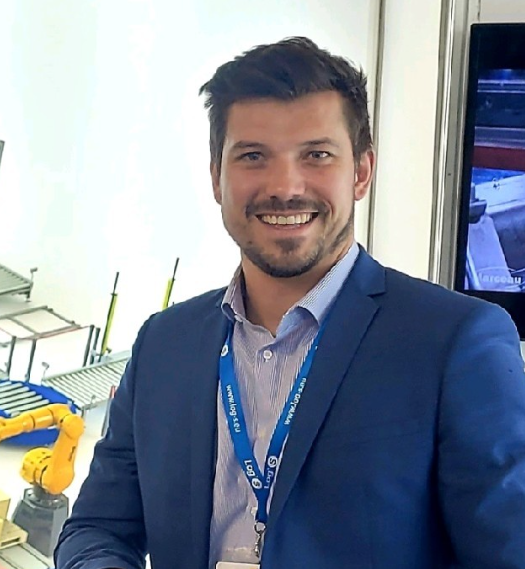 Founded in 1946 after the Second World War, Marceau became a designer and manufacturer of handling systems in 1978 with the creation of a department dedicated to industrial automation. In the 1990s, with globalisation, the company gradually became an industrial structure with an international dimension, having built up a prestigious reputation and having been recognised on several occasions for its range of continuous handling equipment for palletised loads. The entire range produced by the company is also designed to operate in controlled temperature (positive cold), as well as in cold rooms (negative or deep freezing).
A shift towards sustainability
"To date, we offer the best products on the market in terms of durability: we are virtually the only ones to offer mechanically welded frames for all our machines and to have kept production totally in-house, French-made machine frame structures, without the slightest screw and assembled from a single block: they are therefore much stronger and more durable than their mechanically screwed counterparts", continues Antoine Marceau.
Marceau, 75 years of family production
Following the pandemic and the slowdown in world trade, the company recovered quickly with a huge order book.
"COVID has highlighted the limits of globalisation in favour of a certain regionalisation, which has, to a very large extent, revalued production by local structures, and this is where our choice to keep all the trades in-house has made the difference."
The company, which was celebrating its 75th anniversary in 2021, was able to play on its local aspect to do well and exceed its own expectations. " We are coming off two record years, Antoine Marceau proudly continues. A record in terms of turnover, but also a record in terms of profits made and orders received. We broke our records in all units of measurement, which is a great victory after these troubled times."
However, the family-run company intends to remain so and is far from being overwhelmed by the madness of grandeur despite all these records broken. "We are consolidating our achievements, says Antoine Marceau. The strategy is to capitalise on what we are known and recognised for: our clients know why they call on us and why they recommend us."
Despite its recent and meteoric rise, Marceau is keeping its feet on the ground, continuing on the same path that made and still makes its success: a local French production, and especially a family one. "If we have recovered so quickly, it is because we have remained a human-sized structure, and the last thing we would want to do would be to sacrifice this strength, especially in this context of economic regionalisation which still persists, even after the pandemic", concludes Antoine Marceau.
---