Esko launches latest "Cape Pack 22.07"
Esko has launched its latest version of its pallet software, "Cape Pack"; the first completely Cloud based workflow solution for palettisation and logistics optimisation.
As more attention is being paid to saving on the cost of transport and shipping, it is necessary to optimise these processes as much as possible, both to limit unnecessary expenditure, but also to limit lorry traffic. With this in mind, Esko has decided to launch the latest version of its "Cape Pack 22.07" software.
A human engineering solution
Easy to deploy, use and share with multiple users, this new version of Esko's palletising software aims to improve working methods and operational processes.
"Cape Pack offers all the benefits of our modular palletising software, but now without software installation, and with a more intuitive working practice and, most importantly, the ability to store and access information from anywhere, at any time" , says Richard Deroo, Product Manager at Esko.
Designed to adapt to varying package shapes (cylinders, cubes, trapezoids), "Cape Pack 22.07" appears to be a great solution to quickly and intuitively find the right palletisation model: the software determines the best product size, crate size and number, the distribution on the pallet, or the load on the pallet or the container, allowing companies to optimise their packaging for shipping.
This ultimate version of Esko's software will also be able to create new box sizes and efficient pallet set-ups, and to analyse the compression strength of crates and pallets to use the best materials. "Cape Pack is the only solution based in the Cloud that automatically finds the best combination of packaging for storing and shipping packs, improving pallet loading efficiency and reducing shipping costs by an average of 10%, while protecting the products from damage during transport", adds Richard Deroo.
"Cape Pack 22.07" is therefore released as a complete service focused on efficiency and receptivity. Above all, it means to be accessible from anywhere due to its cloud-integrated aspect, to offer next-generation palletisation including a centralised and streamlined "workflow" solution for all processes – from data entry to to the final report.
A 100% connected and accessible interface
This new interface and its cloud access allow users of "Cape Pack 22.07" to save important data and easily share it with their colleagues wherever they are.
In fact, being integrated in the Cloud enables easy sharing of complete palletisation reports, including important data such as load formatting, modified layer models or lorry data. All this information will now be easily accessible for all associates, which will get products on the market faster.
Organisation, in other words saving costs and sustainability
"At Esko, we are committed to making our innovations quickly and smoothly integrated to ensure that companies achieve demonstrable improvements and a rapid return on their investment," says Richard Deroo.
Ease of deployment, intuitive use, ability to quickly and easily share data: "Cape Pack 22.07" proves itself formidable in its streamlining of workflows in many ways. But the substantial savings in time and money resulting from increased process efficiency and optimised carrier loading are not the only pluses of Esko's solution.
In the long term, optimising pallet organisation as well as transport spaces, aims to reduce the amount of lorry traffic, and in so doing wider carbon emissions from road freight.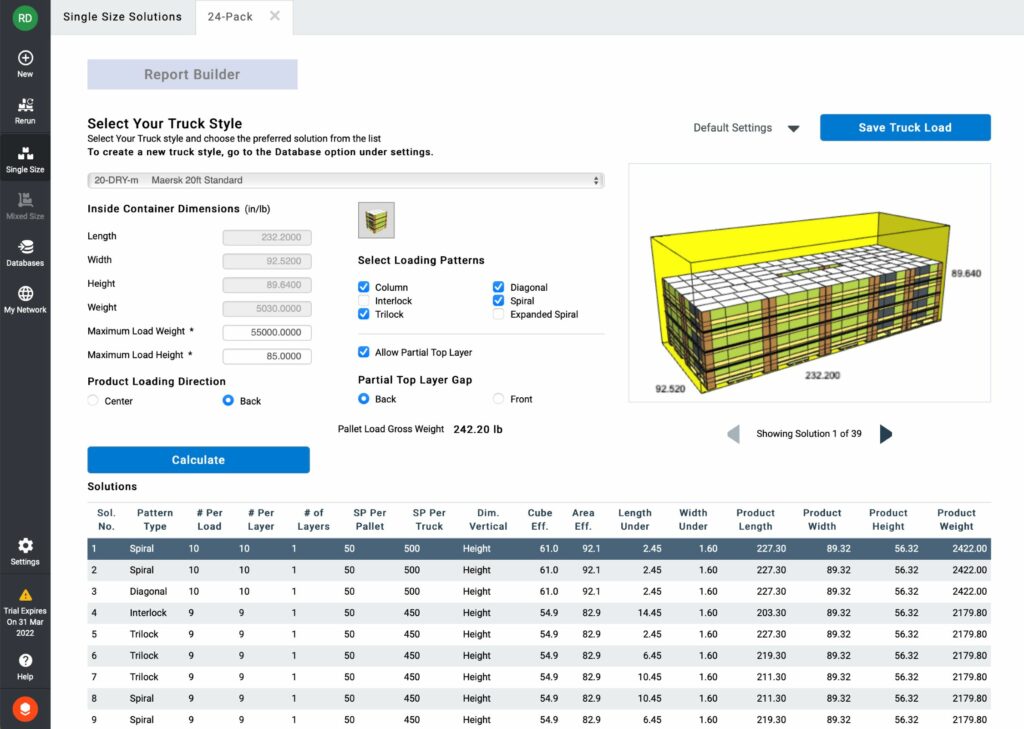 A look at "Cape Pack 22.07"'s connected interface
---