Emballé 5.0 competition: National Packaging Council unveils 2023 prize list
The National Packaging Council unveils its 2023 list of winners and the lucky students of the "Emballé 5.0" competition.
We look back at an avant-garde, warm and colourful ceremony that honours "Packaging for tomorrow!"
February 16, 2023: The opening day of the "Emballé 5.0" competition ceremony, which aims to reward student teams who have come to defend their packaging project of the future. A competition where product and packaging are in harmony with life span, recyclability and controlled environmental impact.
"Emballé 5.0": the spirit of the competition
The National Packaging Council has set up a competition whose main innovation is to no longer dissociate the product from the packaging, but on the contrary, to promote eco-design in order to increase the low environmental impact of the product/packaging combination. A double benefit by including both packaging and product in the recycling loop, the reuse of materials and the circular economy. Focusing on a winning eco-responsible combination of product and packaging reflects a sustainable alternative to perpetuate the product life cycle.
A focus on recyclability, thanks to packaging that is as recyclable as its contents, and an optimisation of the reuse of resources and materials.
This competition is based on the founding pillars of sustainable development: eco-design, maximum recycling, minimum environmental impact, for an optimal circular economy.

Packaging for tomorrow!
This is the credo of the competition launched by the National Packaging Council. The 2023 prize list featured five brilliant student projects, selected by a jury of professionals and enthusiastically presented to the public in six minutes. The ceremony was both original and innovative, with three winners standing out at the awards ceremony.
Here is a look at the five selected projects, including the three winners at the top of the list. With a special mention from the jury for the commitment, innovation and enthusiasm of all the participating and nominated student groups, as well as the teaching teams who supported them.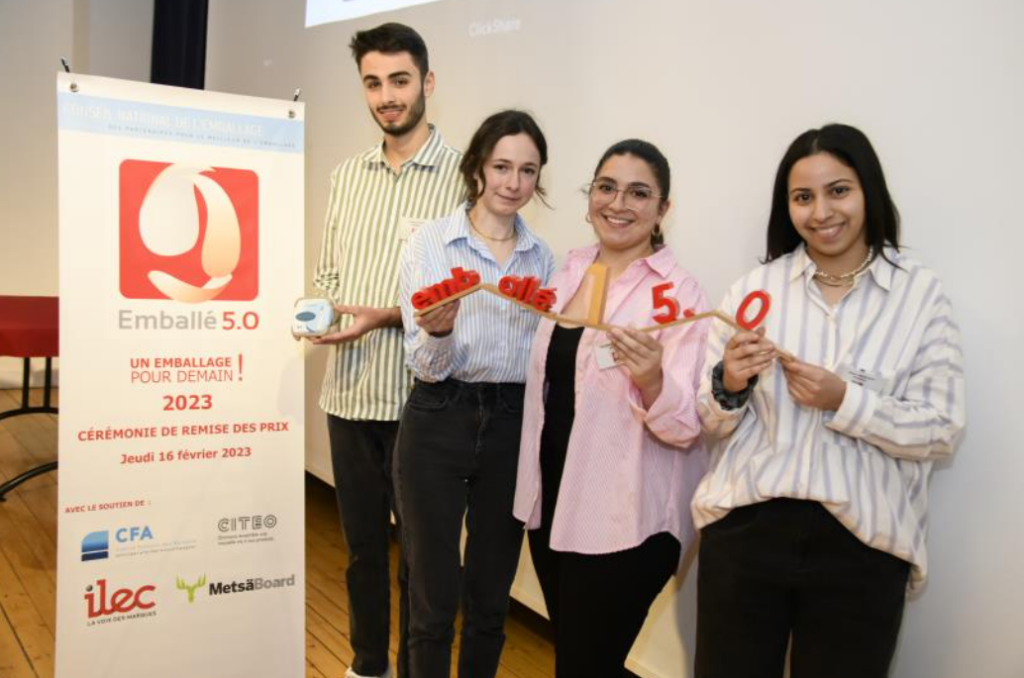 Innovcell presented by the IUT PEC Chambéry.
Students: Timotey Allart, Lila Gharbi-Jannaud, Maële Jullien, Hajar Zennouhi.
Head of studies: Florence Dubelley.
A recyclable moulded cellulose box, containing and cushioning four electric toothbrushes simultaneously. Prevention by reduction at source, for a packaging with less environmental impact.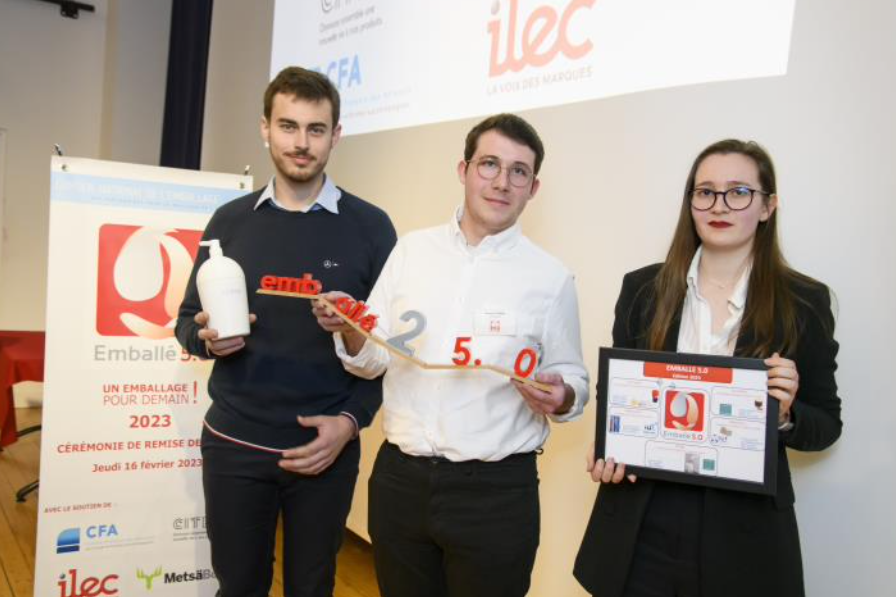 Ycone, a project of ISIP Angoulême.
Students: Quentin Dumas, Pierre Moras, Adèle Rambault.
Pedagogical supervisors:
Sandrine Jutan and Jérôme Fruchard.
A single-material liquid soap bottle that can be reused and refilled with cartridges – with easy refilling thanks to the integrated funnel. A system that generates significant packaging savings.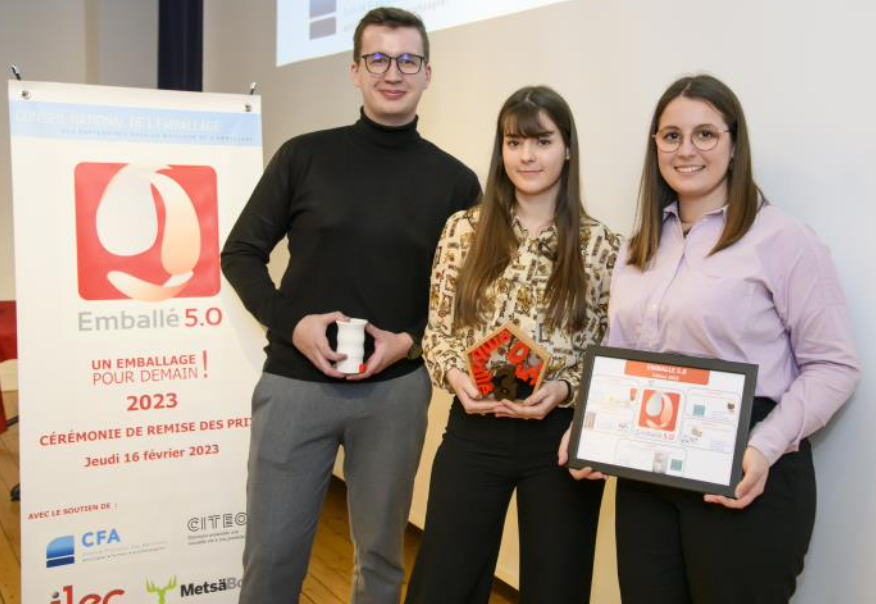 Gloupack supported by ISIP Angoulême.
Students: Léane Guilbert-Cholet, Juliette Joly, Maxime Villedary.
Pedagogical supervisors:
Sandrine Jutan and Jérôme Fruchard.
A package that dispenses the recommended dose of cocoa (14g) in the form of balls. Reusable, it is associated with doypack-type refills to maintain a lower environmental impact.
Cap Away, student project of the Institut Agro Dijon.
Students: Morgane Cazot, Clément Gossa, Jeanne Schirlin, Héloïse Serve.
Educational manager: Isabelle Severin.
A package consisting of a glass jar containing soluble coffee and a measuring cap. The cap has eight compartments, each containing one dose of coffee (2g). The packaging is reusable and watertight, making it both reusable and mobile.
Mariodent, presented by the IUT PEC Reims.
Students: Emma Belgacimi, Audran Chamberlin, Zoé Coulmeaux.
Teaching manager: Ahmed Tara.
Toothbrush packaging for children, optimised thanks to prevention through reduction at source, both in terms of quantity of material and logistics. A playful packaging for the proposed second life.
The National Packaging Council would like to take its hat off to all the students, nominees and winners, as well as to their educational supervisors. Not forgetting the loyal partners who supported the "Emballé 5.0" competition. This is a fine list of winners, with a noble common mission: 100% eco-designed and eco-responsible packaging for tomorrow!
---