Antalis to participate in All4PACK Emballage Paris 2022!
Antalis, a leader in packaging products, paper and visual communication solutions, will attend the 2022 edition of All4Pack Emballage Paris, taking place from 21 to 24 November at the Paris-Nord Villepinte Exhibition Centre.
Europe's leading distributor of packaging products, papers and visual communication solutions has confirmed its attendance at the trade show. Antalis will be presenting its latest innovations and initiatives in favour of environmental protection in Hall 5a, Stand E061.
New environmentally friendly packaging
Antalis will present a wide variety of packaging products, family by family (boxes, cushioning, adhesives, films, labels, strapping, etc.), with the aim of replacing plastic-based packaging with paper– or wood-based products if possible. Or, if plastics cannot be completely eliminated, their use should be drastically reduced and replaced by recycled or bio-sourced products.
Resolutely green initiatives
Development and environmental preservation are at the heart of Antalis' communications strategy, having developed two strong initiatives on the topic, which focus on the "3Rs": reduce, reuse, recycle.
The first adopts the Green Star System, a rating system which takes into account a whole range of key elements that promote the sustainability of packaging. For example, the using recycled or bio-based materials in manufacturing or the technical recyclability of the packaging after it has been used.
Antalis aims to have all of its own-brands, as well as at least 50% of packaging products from its suppliers, using this environmental rating system by 2025.
The second major initiative that Antalis will present during the show is called "The Green Card", which offers in-depth information on the sustainable products offered by Antalis and incorporates numerous criteria such as recycled and bio-based materials, technical recyclability, reusability, GHG emissions, and product certifications.
These two initiatives, designed and validated by environmental experts, provide extensive information on all so-called eco-responsible packaging, and set Antalis as an example to follow, particularly for its clients. The company advises them extensively to select the best packaging solutions, which are always more sustainable and efficient.
Antalis mechanised solutions
In addition to its new initiatives and innovations, Antalis will also introduce its latest automated packaging machines and solutions at the show.
Firstly, the PadPak Guardian, the simple, fast and compact solution to many of your packaging needs. Cushioning solutions are available to work in an elevated or lowered position, for stand-alone use or close to a work table, using a stand or table mounted converter. The result is a cushioning solution that promotes efficiency in almost any work environment.
The PadPak Guardian offers a compact footprint thanks to its reduced size and weight, which means the PadPak Guardian uses your warehouse space more efficiently. It fits into tight lines where space is at a premium and can produce 1 or 2-ply paper mats. One can choose from a wide range of papers, from virgin to recycled, with 1 or 2 ply options. An efficient and sustainable alternative to plastic.
Alongside the Trident will be the "Geami WrapPak" converter, which is a combination of kraft cut paper and a tissue paper insert, which gives the cut paper a 3D honeycomb structure and thus forms a unique wrapping material. The interlocking paper cells thus obtained allow for safe and practical packaging of products without the need for any additional tape or cutting. Ergonomic and space-saving, this converter fits into any workstation affiliated with the packaging of individual products.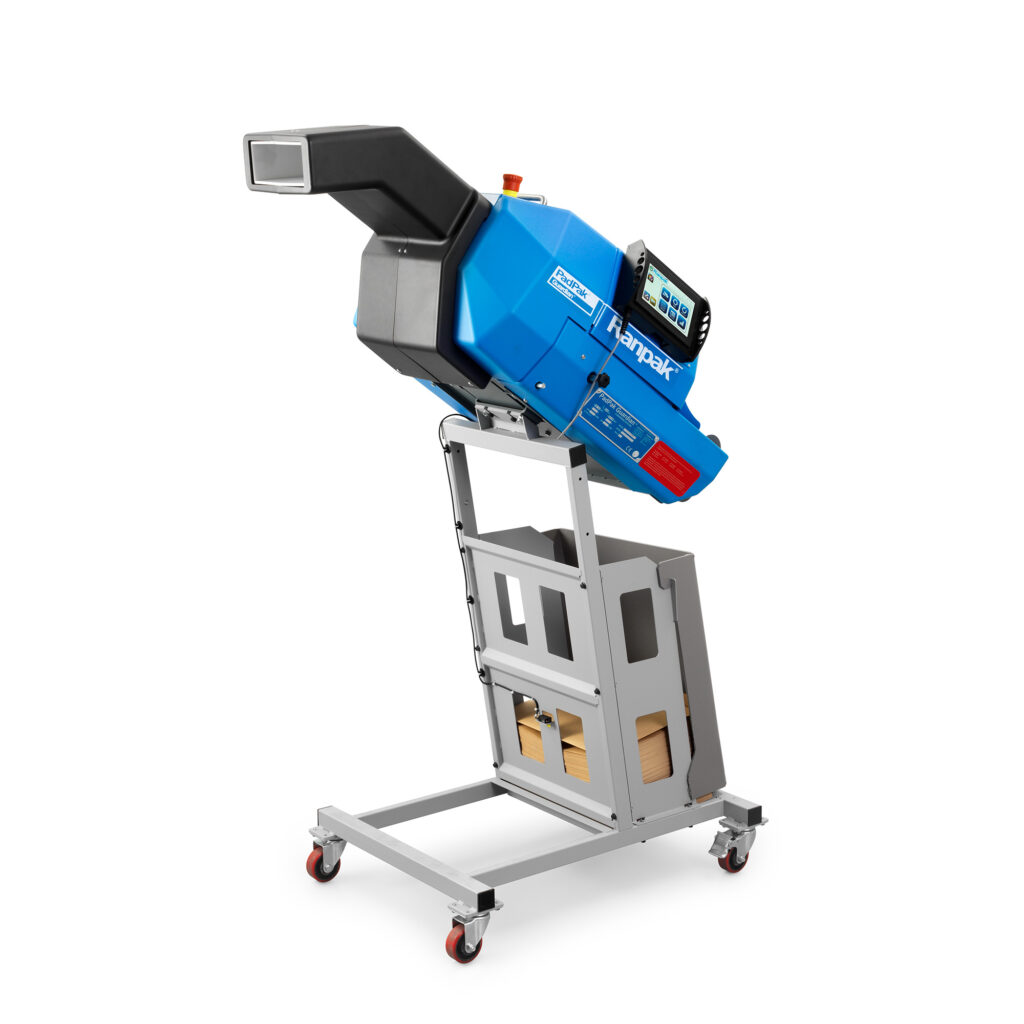 ---